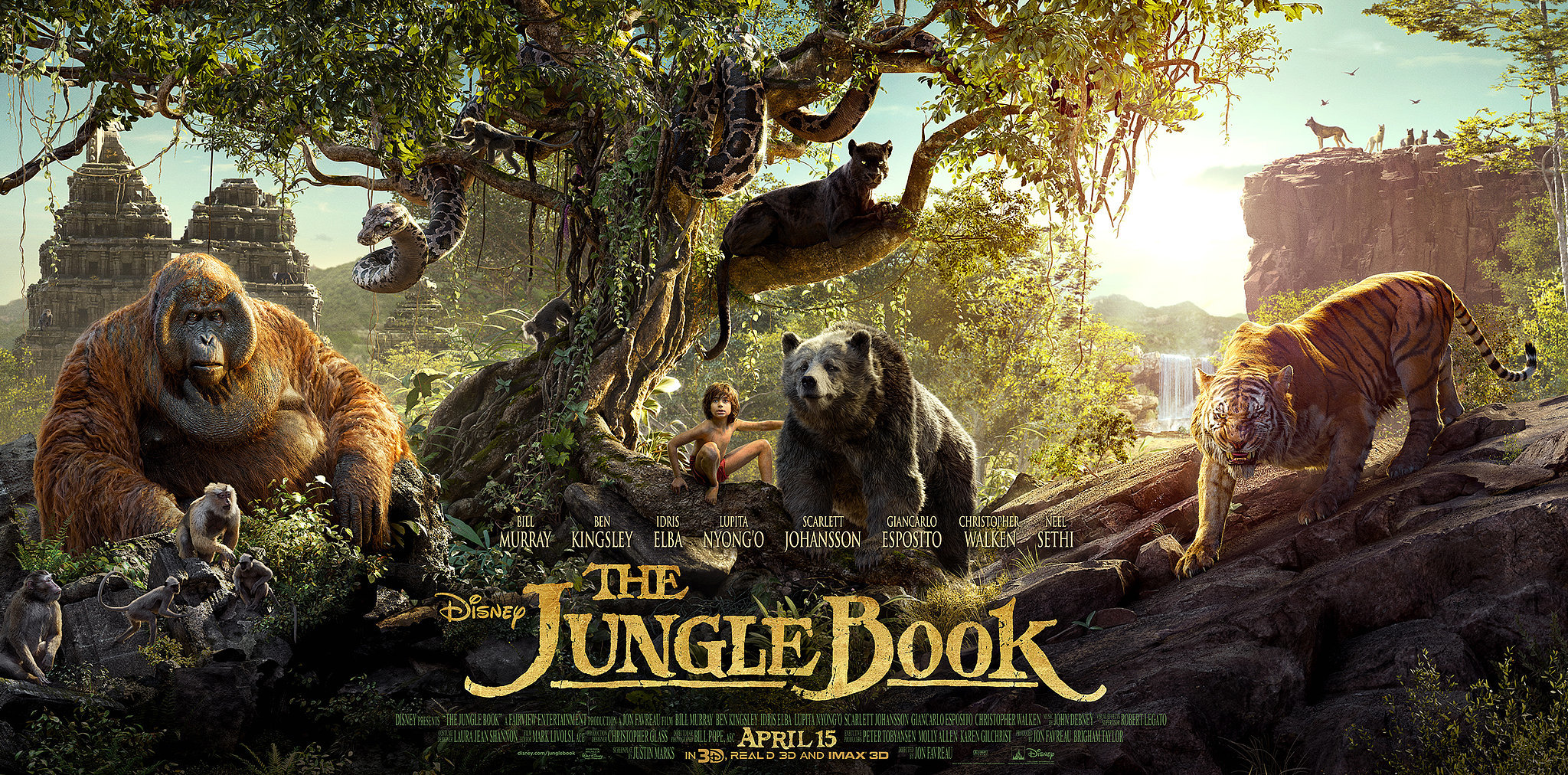 Welcome to the Jungle
Reviewed by Mason Manuel
Though it may not have been a "bare necessity" of a reboot, Disney's The Jungle Book is back and looks better than ever. Adapting the plot from Rudyard Kipling's novel of the same name, the story of the boy and his jungle is fantastically realized by expert direction from Jon Favreau (Iron Man) and excellent performances from an all-star cast that truly captures the mystery of the wild.
Favreau's take on the Disney classic is nothing special in terms of plot as it recycles the original material for almost the entire screenplay. What is new is the amazing CGI world that has been created almost entirely on green screen with only one human actor. Normally an overabundance of CGI can take a viewer out of the experience but I was contrarily entranced by the beautiful world that had been created. Also new is the backstory revealed behind some of The Jungle Book's animal characters including the most feared predator, Shere Khan (voiced by Idris Elba). While this new information does not necessarily make him a villain we can sympathize with, it does give him more motivation to hate humanity and pursue his mission of killing Mowgli.
Speaking of the film's solo human character, huge props must be given to the Mowgli actor Neel Sethi. It can be easy to forget while watching that the world on screen is entirely make believe, but Sethi sells it with grace despite only being 10 when production began. Though Mowgli starts in the jungle as young and fun loving, he grows to realize that there is more to the world than floating down rivers and eating bananas thanks to the hatred found in Shere Khan. Sethi accurately captures this coming of age story as he slowly evolves from innocence to grim determination.
Mowgli is not the only one worthy of praise. A star studded cast of animals also prowl the jungle and almost all of the voice direction is on point. My personal favorite was Sir Ben Kingsley (Gandhi) as Bagheera the Panther. He comes off as stern and without remorse but Mowgli is often able to coax a sweet spot out of him which Kingsley expertly emotes. Bill Murray does a great job as the bumbling Baloo the Bear, bringing the expected light heartedness to the screen. But it's not all sunshine and rainbows. There is darkness in the jungle, so much so that parents bringing their children may find a little more evil than they would have liked for the film. There were a couple times where even I jumped (a fully grown 22 year old man child) so take that as you will. I would not necessarily call this a Jungle Book aimed towards adults, but neither is it an innocent children's film either. This is simply a film for modern audiences in what is arguably a darker modern world.
Favreau's directing meshed with screenwriter Justin Marks deep screenplay makes for an excellent retelling of The Jungle Book worthy of its predecessor. Though made for children at its heart, in a very Pixar style, there are plenty of messages for adults to take away as well. Loss and joy run side by side here and creates emotional depth for what could have easily devolved into a heartless remake. With fully fleshed out characters and beautifully created world, The Jungle Book deserves your attention. RDR gives it an 8.3 out of 10.